I make electronic things at home. Sometimes from individual components, down to designing and fabricating PCBs from blank boards. Sometimes by connecting groups of purchased modules. Surface Mount Devices sit on top of the board, while through hole components are placed through machined holes that span all layers of the board. SMD pieces have many advantages over through hole components for industry use. They're cheaper, they can be placed easily and effectively by pick-and-place machines, and the final manufacturing steps are easier and cheaper than the steps for through hole parts.
As a very quick overview of the typical ...
---
I would only recommend 3d printing to someone who wanted a hobby, and wanted that hobby to be 3d printing, not "having parts made on a 3d printer". The printing itself is the activity. If you have any other primary motivation your parts will fail more often than they'll succeed.
3d printing with open source tools is this weird siren's song for me. I'm an open source enthusiast and apologist. I'm an early adopter. I'm a born tinkerer. I'm a wishful inventor. I'm a programmer and electronics nerd. 3d printing theoretically ticks all ...
---
What celebrity do you most resemble?
What was the first name of your prom date?
What was the name of the street you grew up on?
These are questions that are probably trivial to answer by a friend, and not much harder for a stranger with a small amount of information. These are the questions my bank wants me to use to "secure my identity".
There's a really easy way around this. Keep a notebook or journal with made up answers to these questions. I use random strings and 1Password, but you could do almost anything and it would ...
---
My first real introduction to participatory storytelling was through Dungeons and Dragons. There I was introduced to the idea of an alignment chart. The concept is both incredibly simple and incredibly powerful. It is a map to help define both the goals and behaviors of a character.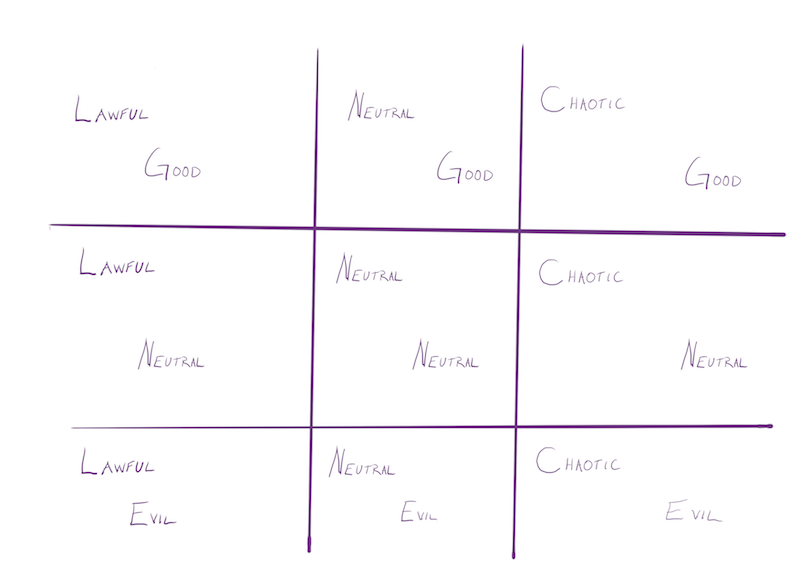 Alignment Charts
This is a 9 cell 3x3 chart with two axis. Dungeons and Dragons describes these axis as "Law vs Chaos" and "Good vs Evil". In the middle of each is "Neutral".
You probably have an idea in your head of Good and Evil. For descriptive purposes it's easy enough to ...
---
---